Ready.  Set.  Name that movie!
"Bye Buddy, hope you find your dad."
"You sit on a throne of lies!"
"The best way to spread Christmas cheer is singing loud for all to hear."
"I'm a cotton-headed ninny-muggins."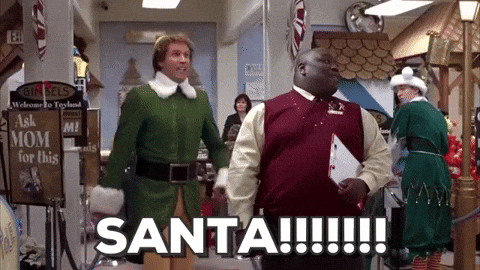 This post may contain affiliate links which means if you choose to click and purchase, the blog gets a little chunk of change.  Thanks for your support.
It's the most wonderful time of the year – time for the annual 25 Days Of Christmas Movies Blog Hop! #ChristmasMoviesHop
Let's Meet The Hosts!
Megan ~ C'mon Get Crafty | Marie ~ The Inspiration Vault | Carmen ~ Gross to Grandiose
Christine ~ My Kitchen My Craft | Crissy ~ It's a Wonderful Life | Emily ~ Domestic Deadline
Stephanie ~ The Tip Toe Fairy | Rebecca ~ The Moments at Home | Marianne ~ Songbird
Ashley ~ Attempts at Domestication | Sue ~ A Purdy Little House | Roseann ~ This Autoimmune Life
Kim ~ Kimspireddiy | Jaime ~ Love Jaime | Terri ~ Christmas Tree Lane |Lyne ~ The Paper Addict
Nicole ~ For the the Love of Food | Marie ~ DIY Adulation | Paula ~ Paula Tisch
Lara~ Love on a Plate | Jaclyn ~ The Dotted Nest
Will Farrell's energy and comedic skills are absolutely superb as Buddy, the elf.  A full grown man raised by elves at the North Pole, who goes in search of his biological father in the Big Apple.  Buddy's journey is filled with so much joy and mayhem and lots and lots of sugar!
Buddy's incredible love of sugar motivated me to grab some candy, smash it to bits, and create a few stunning Elf inspired Christmas ornaments!
Step 1:  Gather your supplies
A variety of hard candies – these would work well
Candy Canes
Mod Podge & brush
Pinecones
Step 2:  Unwrap the candies
Because I wanted to try to make both single colored ornaments AND multi-colored ones, I unwrapped and sorted the candies by color family.
Step 3:  Crush the candy
For this step, I used ziplock freezer bags and a meat tenderizer.  Place the candies and the bag and fire away!
You will want a variety of sizes of candy pieces for best results.
Step 4:  Glue
With a small brush, brush the Mod Podge onto the tips of the pinecones wherever you would like the candy to coat.
Step 5:  Sprinkle candy
Using a spoon, sprinkle the candy over the Modge Podge covering it completely.  Shake off excess.  Set to dry.
Step 6:  Add ribbon.
Tie a ribbon, twine, or string to either the top or the bottom of the pinecone for hanging.
Elf inspired Christmas Ornaments!
That's it!  Time to hang the Elf inspired Christmas ornament right on the tree!
Wouldn't this be a fun project to do with your kids or grandkids to celebrate this fabulous Christmas movie?  Make sure and check out the other amazing projects my fellow bloggers have created.
Also joining with Janet at Shabbyfufu for a fun Blogging 50 hop!  Thanks Janet!
As a bonus, we are doing a giveaway too!  Merry Christmas to you!  So follow the directions and sign up below…