I love a good Disney movie and recently while visiting Favorite Pixie, Favorite Navy Wife introduced me to Moana.  So when the opportunity for #moviemondaychallenge came to do something creative based on a Disney movie, I knew exactly what I wanted to choose – A DIY Te Fiti Crown for Favorite Pixie.
On the last (or fourth) Monday of each month, a group of bloggers participate in a #MovieMondayChallenge, hosted by C'mon Get Crafty!
We decide on a topic, genre, or specific movie, this month is Disney movies,  to use for inspiration and everyone gets free reign to create something wonderful!
In case you missed them, my previous Movie Monday Challenge Projects can be found here:
January | February | March | April | May 
I'm super excited about choosing Moana.  While I was visiting Favorite Pixie I only saw bits and pieces of this wonderful Disney movie.   Recently, I spent a little time and watched the whole thing, from beginning to end.  I just loved it.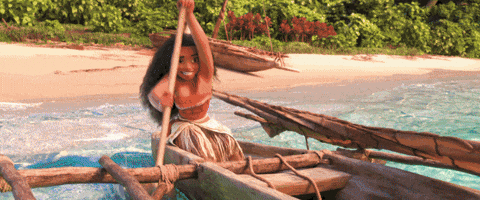 See the line where the sky meets the sea? It calls me
And no one knows, how far it goes
If the wind in my sail on the sea stays behind me
One day I'll know, if I go there's just no telling how far I'll go
~Lin-Manuel Miranda
Sing along with me!  It calls me!
I love that Moana thinks outside the box.  That her family is important to her.  That she takes pride in her culture and her ancestry.  I love that Moana faces her fears and comes out on the other side.  And I especially love that she could see through the monster to the heart of Te Fiti.
Wouldn't it be great if we could all see through to the heart of our adversaries?
With Favorite Pixie in mind, I decided to try my hand at Te Fiti's crown.  It is so beautiful with all of the flowers and the colors and Favorite Navy Wife thinks she will love it.  And yet, a crown is a little to solid for her at this age.  She is not even two yet,
Thus, I'm thinking a headband style crown might be a little better for her.  And, well, since I'm making one, I might as well make both.  That way she can choose who she wants to be any given day.  One day, Moana.  One day, Te Fiti.  Life is about choices after all!
So here goes.  Let's start with Moana's crown – sort of a practice run before we tackle Te Fiti's.
Step 1:  Gather your materials.
Flowers / Leaves
Satin elastic / headband elastic
Hot glue gun
Felt
Scissors
Step 2:  Measure and Sew Headband
Either measure your child's head or if said head is unavailable for measuring, use this chart for sizing.
Since Favorite Pixie is about 15 months, I went with 16″ for her.
Next, cut the satin elastic to size and then either stitch using your sewing machine, stitch by hand, or you can even just hot glue the headbands together.  Easy Peasy, right?
Step 3:  Cut the flowers and leaves from stems.
Cut all the leaves and all the flowers from the stems.  The bunches that purchased had leaves in three leaf clumps.  I used both the clumps and single leaves for the Moana headband.  So cut both ways if you have the ability.  It will give you more options.
Step 4:  Start gluing the leaves onto the satin elastic.
Take your hot glue gun and begin to glue on the leaves.  Don't put them too close together as you will need some space to stretch the headband in order to fit over your little one's head.
Step 5:  Glue the flowers.
Space the flowers evenly around the headband using your hot glue gun.  If you are anything like me, this entire process involves a huge mess of hot glue strings attached to your hands, the leaves, the water bottle near you and the dog.  It also may involve a burn or two.  Just sayin'
Step 6:  Try it on!
Sadly, Favorite Pixie is not here in Alabama, so I had to look for a substitute model for the picture.  I am popping the headbands in the mail for her to try soon, so I promise to add those photos ASAP.  But for now, Cooper will have to do!
Step 7:  The DIY Te Fiti Crown
For the Te Fiti headband, the only difference is that I decided to not make this one a full crown.  After finishing the Moana crown, I was worried about the ability to stretch it over Favorite Pixie's head.  So for the DIY Te Fiti crown, I glued the flowers over about half of the satin elastic.
I also was able to back the flowers with some felt, which will hopefully soften the parts against her little head.  Once again, I just used hot glue to attach the felt.
Cooper was such a trooper.  He even volunteered to model the DIY Te Fiti crown for me!
I'm just thrilled with how these headbands/crowns turned out.  And I'm really excited that now I can make whatever other headbands Favorite Navy Wife would like for future fun!
Don't forget to check out my friends' great ideas based on their favorite Disney movies!